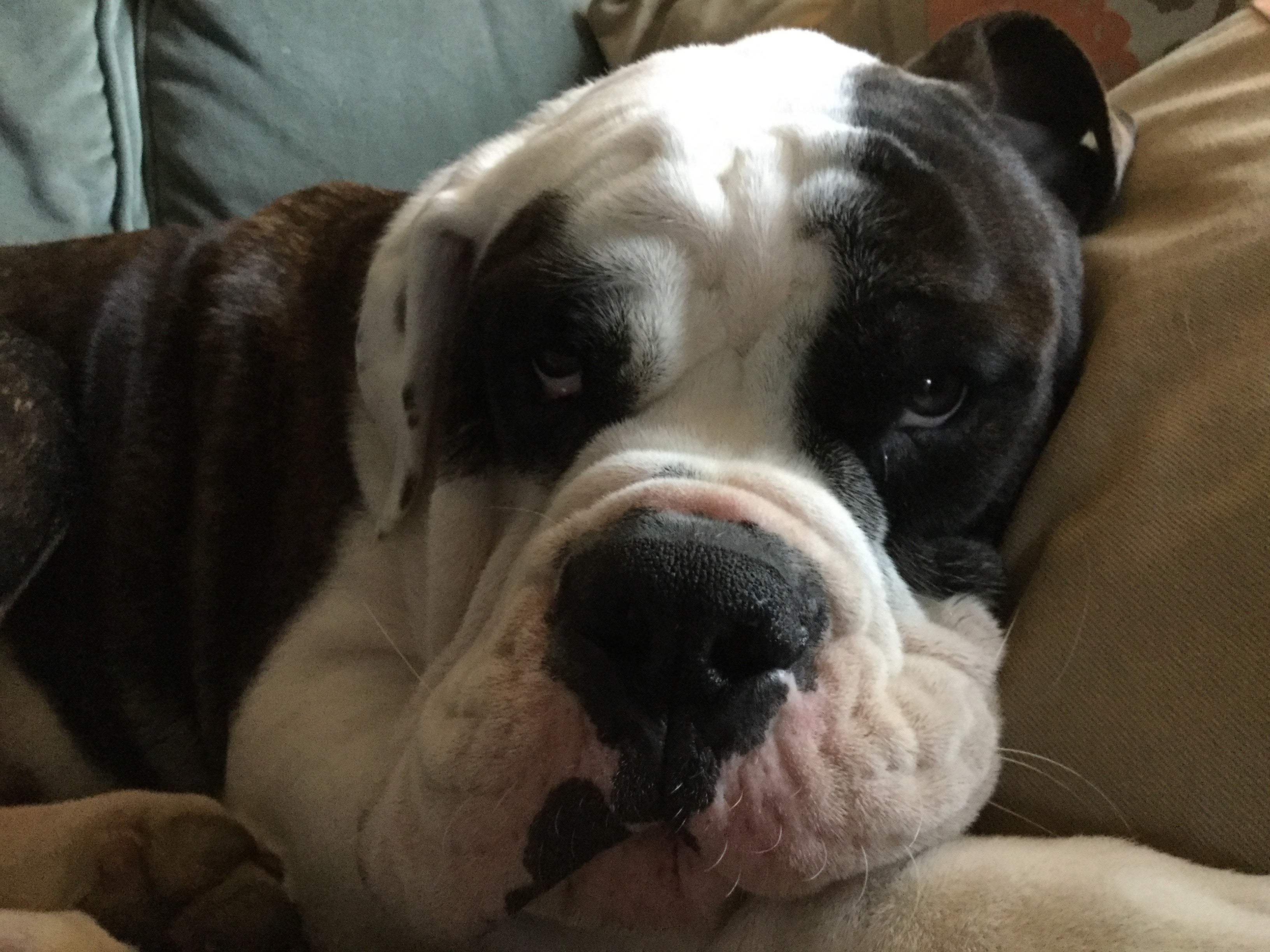 Hi, My name is Bluto and I'm here to discuss ticks with you, but first a little background on me since this is MY blog and MY first blog post.
I am a boy dog and I am 1 yr and 8 months old. My family rescued me so the verdicts out on what "breed(s)" I am but I think I am ½ Mastiff & ½ American Bulldog which would make me a Victorian bulldog. Now that sounds very fancy but truth be told, I'm a bit awkward and I'm not ashamed to admit it. My back legs are much longer than my front legs, my head is extra huge--like really extra huge and my front paws are abnormally gigantic. When I first came home to my forever home, I had never gone up and down stairs and I was already 8 months old and 92 lbs. My forever house has two separate staircases so learning how to go up and down those stairs was like boot camp training. Due to the fact that I am "top heavy", I had to lay my head down on the stair above to make my way up one by one. Going down is a whole other story! Till' this day stumbling down those stairs is a sight to behold but actually, the reaction I get from friends when I drink water from my bowl is better than any stand-up routine I've seen/heard.
But I digress! Back to MY blog, ticks and lyme disease...
There are two reasons why I believe I am an expert on lyme and ticks. One is that I live in Connecticut where Lyme disease was first found. And two because I am a dog and ticks love dogs.
So WAY BACK in 1975, Lyme disease was diagnosed as a separate condition in Old Lyme, Connecticut. Once thought to be juvenile rheumatoid arthritis, Lyme disease is an infectious disease that affects both humans and companion pets but I'm going to focus on companion pets because I am a dog and this is my blog.
Now it's December here in the Northeast, we've just had our first snowfall and I've overheard some humans talk about ticks dying off due to the cold weather which is somewhat alarming to us companion pets. Did you know that in order to survive the cold and the snow, some ticks do find shelter in leaf litter and lay dormant until spring? BUt...here's the kicker….some ticks can tolerate colder temperatures and remain active year round, specifically the deer tick, which is primarily responsible for the spread of Lyme! This is no joke. I have to say I cringe when I hear humans say they're going to lay-off the tasty monthly treats that are given to us dogs to ward off ticks?! In fact, cases of Lyme disease showing up in winter months have been recorded in at least 11 states, with Maryland, Delaware, and Pennsylvania having the highest numbers. Especially in the Northeast and upper MidWest, adult stage female deer ticks are loaded with pathogens and can give you and me Lyme disease, babesiosis, anaplasmosis, and possibly a relapsing fever or a deer tick (Powassan) virus. If you're out and about and go on hikes like I do all year round,, always do a quick TickCheck daily, especially from your waistline and up – front and back. In one study, 63% of adult ticks were found attached on the head, neck and upper torso. Even though this tick's preferred host may be white-tailed deer, they're waiting to latch onto humans and pets like me. Let me be honest, In my time on earth I've learned better safe than sorry!
when I learned all this stuff it came as a shock to me so I sure hope my first posting helps you humans realize that ticks and lyme disease are not just a three season worry.
Now for my shameless plug: There are many great options on the market to help your pets stay clear of lyme and other tick borne diseases. If you're not sure what to use contact Dr. Glassman and she'll help you decide. I know some folks swear by Vectra - that gooey stuff that goes on our backs. My mom used it for years and said it worked great, but she switched to Nexguard because …. Actually she can't remember why she switched but I can tell you that my brothers and I like it way better cuz it's like a treat.
You can either come into our office and purchase the products we offer over the counter...which are:
Nexguard: chewable given once a month (my favorite)
Bravecto:: chewable given once every three months
Effitix:: Topical solution applied once a month
Seresto Collar: non-greasy, odorless collar with an 8 month efficacy guaranteed
Ticked OFF: Organic, natural product by RAWGANICS that gets absorbed into the bloodstream as your pet digests their meals, immediately going to work making your pet's blood taste undesirable to any fleas, ticks or other biting insects/pests. YUCK.
Or you can visit our online pharmacy at: https://rooseveltvet.vetsfirstchoice.com/
because they offer everything under the sun!
Thanks for reading,
WOOF! Bluto
P.S. I forgot to mention that all of these products ward off fleas too and that my next post will be about RAWGANICS! You're pets are gonna LOVE it!